All 4 sports.... a perfect deal for the hardcore gambler. All sports include entire season of picks by email as well as website access. Membership active instantly for any sports currently being played and valid until end of season, regardless of the number of games remaining. For sports not in season, your password will become valid at the start of the next season.
AllSports Picks has been a well-established sports handicapper service for over 13 years. Combined, our handicappers have over 40 years experience in football baseball hockey and basketball, understanding the point spreads and beating those clever odds makers. We feel consistency is the name of the game and we have our weekly football picks and basketball picks down to a science, as well as our baseball and hockey.


$$ Profit = Quality picks, not quantity!
GUARANTEED WINNERS
Or Your Money Back! Purchase our VIP Pick Package and we guarantee you a winning season of football and basketball picks or we will refund your membership fee in full. How can you go wrong? Selecting an all sports handicapper has never been this easy before. Yes, you read it correctly, guaranteed NBA basketball and Pro football picks! You can rate us against the other handicappers at Cappers Watchdog and Cappers Monitor services.

Our football picks and basketball picks are guaranteed to make you a winner season after season. But don't take our word for it! Check us out for yourself at Cappers Watchdog or Cappers Monitor.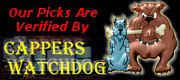 ---
---
AllSports Home | Purchase | Our Record | Contact Us



Copyrightę 1995-2015. All Rights Reserved. www.allsportspicks.net is owned by AllSports Inc.
U.S. Citizens Please Note: The information contained at this website is for news and entertainment purposes only. Any use of this information in violation of federal, state, provincial or local laws is strictly prohibited.